Partnership with Experian |
Debt Doctors Foundation UK (DD-UK) announces charity partnership with Experian…
Getting the message across to young children that they need to be careful with their money.
"We believe that the rising problem of debt in our society needs to be nipped in the bud and we will be visiting primary schools and children's organisations to teach about money and saving" – Joseph Salmon, Sponsorship and Fundraising Manager, DD-UK.

Debt Doctors Foundation UK (DD-UK) and Experian are teaming up to provide much needed, creative and innovative money education through workshops and fun activities for primary school-aged children. It is estimated the project could have an impact on as many as 240,000 children, teachers and parents/carers in 2009/2010 (London schools and a selection of Nottingham schools) – ensuring that children are in a better position to manage their money and make informed choices in the future, making them less likely to become victims of unscrupulous lenders.

This pioneering two-year project (to be rolled out nationwide in 2010/2011) will help with general knowledge about money, banking and basic budgeting skills – enabling them to understand basic terms such as APR, compare credit and understand the implications of loans.

To help young children learn more about money and to become responsible citizens - they need to be educated about financial management at an increasingly early age - it is this major social priority that DD-UK's Children's Money Education Project seeks to tackle.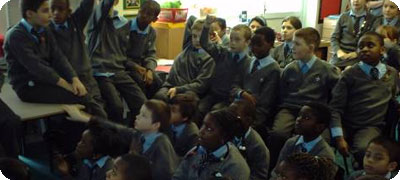 Children (Key Stage 1) at St Mary's, Catholic Primary, London
Apart from general financial support and other in-kind products and services, Experian already have several hundred staff on stand-by to volunteer their time and expertise, to help deliver the money education workshops.

"Confronting the causes of poverty is at the head of our agenda and our first steps will be to tackle it at the root of the problem – money education and awareness."
Jan Barratt, Community Involvement Lead UK & Ireland, Communications and Community, Experian UK.