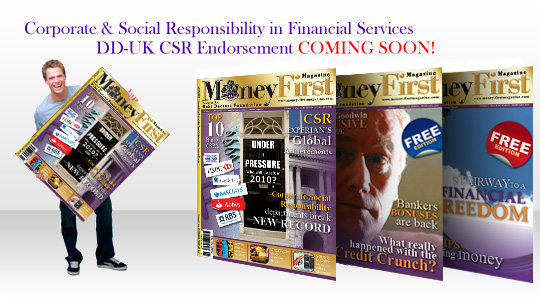 Subscribe now and be in the know
Money First Magazine is the only finance and lifestyle magazine geared towards everyone living in the UK - from the risk-averse to the risk-takers.
Money First Magazine is a free, quarterly publication dedicated to the balanced provision of educational, informational and advisory, counselling and awareness resources to all kinds of people. Whether you are planning to buy a home, balancing your personal accounts, or making an important investment - Money First Magazine can help you do it better!
If you are serious about making the most of your money, tap into Money First Magazine's expertise today!
Become financially independent
Avoid debt or bankruptcy
Learn strategies for spending, investing and saving
Wide range of topics including: retirement, bankruptcy, insurance, children's education and more
Click here to preview the draft copy of moneyfirst Magazine
Subscribe online now or visit www.moneyfirst-magazine.com  for more information.