Primary Schools |
Money Education Project

Confronting the causes of poverty is at the head of our agenda and our first steps have been to tackle it at the root of the problem – via money education, information and awareness projects, as well as roadshows and enlightening seminars and conferences. In addition, DD-UK provides Children's Money Education workshops to get the message across to young children that they need to be careful with their money. Children need to be educated about financial management at an increasingly early age - it is this major social priority that DD-UK's Children's Money Education Project seeks to tackle. We believe that the rising problem of debt in our society needs to be nipped in the bud and we will be visiting primary schools to talk about money and saving.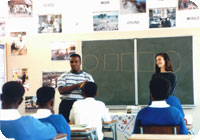 We will deliver 30 - 45 minute workshops, presentations, questions and answer sessions and finish off with the distribution of worksheets for them to take away to work on. In phase 2 of the project we will be incorporating the The Money Penny Family Children's Book Series into our presentations. In all the schools we have visited so far, we found the children to be an eager and receptive audience and we are particularly pleased with the positive feedback we have received from the teaching staff, all of whom have requested additional and bespoke workshops/visits for the New Year.