DDUK Wedding Planner |
Budgeting your wedding

Planning a wedding should be the most important and exciting time of any couple's lives. However, the costs can soon spiral out of control, and with the fact that the majority of modern couples pay for the bulk of the wedding themselves, this can be a serious issue. An average UK wedding today costs £21,000, and this is for a fairly modest ceremony. For those planning a more lavish do, the costs can escalate almost indefinitely. Given the fact that the average disposable income in the UK is just £16,000, it is very easy for couples to find themselves in debt following their wedding day. With all the restraints placed upon our finances in the current economic climate, many couples are looking for ways to lower the costs of their big day and avoid beginning their marriage saddled with debt.

Typically, weddings take around one year to plan, giving plenty of time to budget properly and ensure that your dream day does not cost the earth. After announcing your engagement, ask round family and friends and find out if anyone ahs any skills which could help cut costs. You may have a friend who can take over photography duties or a pal with a nice car who can act as the bride's chauffer.

While friends and family may be able to help alleviate the smaller costs, it is the big buys, such as the catering, honeymoon and wedding dress which really push the price up. However, with a little shopping around and the help of these top tips, it is possible to drastically reduce the cost of your wedding while still have the day of your dreams.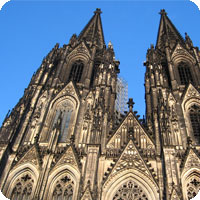 The Venue
The reception is often the most expensive aspect of the wedding. There is the venue hire to think of, food and drink for guests and entertainment to name just a few. When choosing you venue, consider the possibility of going for a less traditional venue. Anywhere which is a popular wedding venue will have a greatly inflated price, so if you don't mind breaking from tradition you could consider hiring a restaurant or bar for the reception rather than a fancy hall or stately home. Falling back on your friends could again be an option here - if someone you know has a suitable house or garden, you ask if they would mind you using it, perhaps offering them something in return to sweeten the deal if they are not a close friend or family member.
 
June is the most popular month for weddings, so many venues and caterers hike up their prices around this time. If you plan a wedding in one of the less popular months such as January, March or November, you will find that prices are much cheaper and vendors are willing to be more flexible with the price. The same applies for which day of the week you choose, with Saturday being the most popular day for weddings.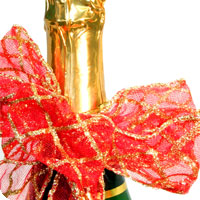 Food & Drink
Food and drink costs very wildly and it is possible to reduce your expenditure on this greatly. You could opt for a buffet rather than a sit down meal, or reduce the number of guests you invite to eat, having only close friends and family at the meal and a larger group of friends for drinks later. The venue you choose and the food you choose will obviously dictate how much you can expect to pay for the meal. With drinks, if you have supplied a bottle of wine with the meal and food, most guests will not mind paying for drinks from the bar throughout the evening to save you spending half your budget on drinks. If you want to include more drinks, you can have an open bar until a set limit is reached, after which guests can pay for their own drinks.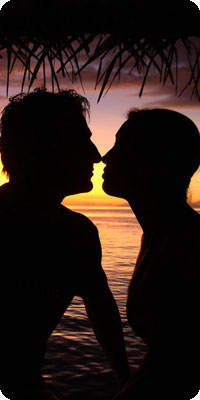 Entertainment
You will need a DJ or some kind of music for which to have your first dance to and provide music for the evening. It may be that you have some musical friends or family who can offer their services, perhaps taking it in turns so that they still get to enjoy the party. Otherwise, you can shop around for different bands or DJs, or even make a few mix tapes which someone can simply put on throughout the evening.

The Honeymoon
While you want your honeymoon to be special, it does not have to be an outrageously expensive affair. It should be special anyway because it is your first holiday as a married couple, the fact that your are together should take precedence over your surroundings. Having said that, you certainly don't want to end up on the holiday from hell, so plan carefully. You may want to book your hotel and flights separately, opting for budget flights, but going for a nice hotel. To cut costs on accommodation without ending up in a hostel, you could choose a cheaper hotel, but book their best room. Alternatively, you could choose an upmarket hotel but opt for a room other than the honeymoon suite. Where you choose to go for your holiday will affect not just the cost of the flights, but how much you spend while you are there and how much your hotel costs. Many of the most popular honeymoon destinations are in the Caribbean, where flights and hotels are generally rather expensive. It may be worth considering the cheaper option of a honeymoon in Europe, where some of the most romantic cities in the world are found. You could look into going somewhere unusual for your honeymoon where prices will be low and you can enjoy spending time together away from crowds of tourists. For help affording a great honeymoon, you could ask wedding guests to contribute towards the cost of your honeymoon rather than buying you expensive gifts.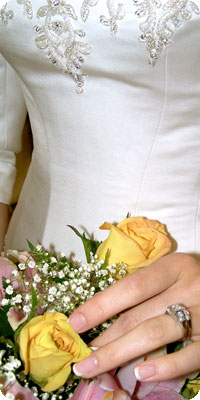 The Wedding Dress
On average, brides in the UK spend £1,000 pounds on their wedding dress. This is undoubtedly a lot of money for a dress that is probably only going to be worn once. Finding a wedding dress that is original and beautiful is possible at a fraction of that price. Some brides have found the dress of their dreams in charity shops, while others look for second hand dresses on the internet. There are many sites on the internet which specialise in second hand wedding dresses, some of them by well known designers. If the idea of a second hand wedding dress does not appeal, you could choose a dress of the hanger from a high street store which will not cost the earth. Otherwise, try going to shops which do not usually specialise in wedding dresses as their prices will be much cheaper. Traditional dressmakers will follow your designs and make a dress to measure for much less than a wedding specialist will charge for the same service.


Shopping around is key for all the expenses involved with planning a wedding. You can save hundreds with a determined attitude, haggling vendors down on the price and looking elsewhere for better deals. Get friends and family involved as much as possible and make the occasion a communal event which all of your close friends and family have played a special part in. As much as you can, do things yourself, design and send out personal invitations yourself rather than paying a company to send out  pretty but generic invitations. Remember to use the internet not only for price comparison, but also for research. There are hundreds of sites online offering handy hints and tips for saving on the cost of your wedding.

Remember that with all the preparations for your big day, you are planning for your future as well. Your wedding is simply one day preceding a lifetime together. There are many things you may want money for in the future and any cutbacks which you make when planning your wedding day will go towards a financially stable future together.