Wealthy areas see debt increase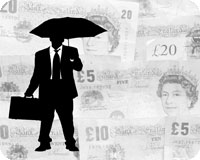 Debt is fast becoming a problem that is affecting all classes, with easy credit available to everyone, whatever their income. Loans for thousands of pounds were regularly approved for people with little or no income, while wealthier applicants had access to even larger sums.
Years of haphazard lending have led to a global financial crash and we have seen levels of unmanageable debt escalate. For the first time specialists in debt are seeing the majority of their clients come from wealthy areas and owe unprecedented amounts of money.
Traditionally very wealthy areas in Kent and Surrey have reported as much as a 130 per cent increase in the number of residents requesting help with managing their debts. Those on higher incomes have found that they have access to huge amounts of money based on their sizeable income and borrowing can easily spiral out of control.
The high profile case of the father and wealthy businessman who killed himself and his family, including his daughter and their pets, demonstrates the devastating impact which debt can have in extreme cases.
A spokesman for Transact member Community Money Advice said "We are seeing a higher percentage of middle and higher income clients who are struggling because of redundancy or the inability to manage their mortgage repayments, often alongside multiple credit card debts."
He added that he expects the number of people struggling with debt to rise over the course of the year, as more redundancies are expected and those who are currently scraping by will find that they are no longer able to cope.
With increasing redundancies and debt levels, the number of homes being repossessed has soared. The Council of Mortgages Lenders (CML) report that the number of homes repossessed so far this year is double that of last year. The CML predict that this trend will continue throughout the year, bringing the total number of houses repossessed during 2009 to an estimated 75,000, compared with 40,000 in 2008.
This is despite the fact that lenders are having to jump through hoops to even secure the right to begin repossession proceedings. Rules introduced in October and November last year state that lenders must be able to demonstrate to the courts that they have tried all other options before considering repossession.
However, the latest statistics also show that 31,000 mortgages were approved in March, while estate agents reported a surge in interest from buyers. This figure is 29 per cent higher than the number of mortgages approved in February, however, it is 33 per cent lower than the number of mortgages approved in March last year. Many are optimistically taking this as a sign that the worst of the recession is over.
So what are we to make of these conflicting figures? Is the economy showing the first signs of recovery or are there still darker times ahead? It seems that these are questions which no one can answer, with the world's top economists all offering different opinions on what will happen next.
www.ddukonline.com
www.investment-times-magazine.com
With debt affecting so many and contributing to a failing economy and rising levels of depression, many are calling for financial education to become a compulsory part of the curriculum.  In the meantime it is left up to charities such as Debt Doctors Foundation UK to hold educational days at local school and teach children about money management.